The Sheboygan Press – Earl Hatch
The Sheboygan Press, Friday, October 24, 1930
Nab Suspect In Murder Of Former Sheboygan Resident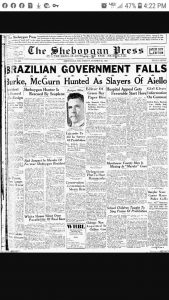 Pupils and teachers at the Sheridan school during the eight years that Dr. M. A. Hatch was principal will be interested to know that a man by the name of Percy Eberly is being held for the murder of Dr. Hatch's son, , a Sheboygan boy. at midnight on April 9. 1927, at Los Angeles. Cal.
Dr. and Mrs. Hatch lived here for a number of years and will be remembered by numerous Sheboygan persons. Their only son was born here during the year 1892. Upon leaving Sheboygan the family moved to Milwaukee where Dr. Hatch studied medicine. Later they moved to the west coast.
A blurred fingerprint and a mother's memory of two short sentences spoken in correct English by a strange voice more than three years ago—one just before
and the other just after her son had been shot to death by a bandit —proved to be sufficient to hold Mr. Eberly for trial on the murder charge.
The fingerprint was found the day following the murder by the police on a closet door where the bandit had locked Hatch's father, Dr. M. A. Hatch, since deceased. while awaiting the return of Hatch and his mother to their bungalow home. The mother, Mrs. Violet Hatch, testified that she is the operator of the Lonesome club at Los Angeles and that she was in the habit of returning to her home about midnight with the night's receipts, which on that occasion amounted to about $400.
Reaching her residence, she said, she found the door locked and called her husband. He unlocked the door, at the same time warning her that an armed robber was present. From behind her an instant later a masked man enunciated the command: "Give me that bag."
She handed over the bag, which contained the money. she declared, and called to her son, who was coming from the garage to stay away. instead, he dashed up the steps in an attempt to grapple the intruder. As he reached the top step the bandit dropped the bag. turned and fired one shot. Young Hatch collapsed. Ordering: "You lie there and don't try to get up," the robber fled to his roadster and disappeared.
Mrs. Hatch said: "That is the man. I could never forget his voice or his face."
Later, face to face with the suspect she reiterated her conviction that he was the murderer of her son. She testified that the bandit's voice remained in her memory because she was surprised that he used correct English.
---
Thanks to Mikah Paulson Kutch, my late cousin Kevin's daughter, for finding this article about the murder.
More information about Erl Hatch's Murder and the events surrounding it can be found at https://hughes-history.com/the-tragic-story-of-the-erl-hatch/